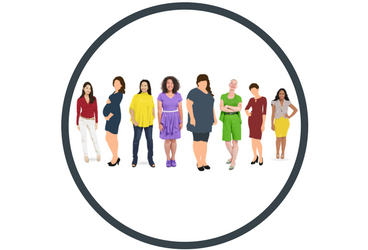 Women In Recovery
5.7% of women have a substance use disorder in the United States, according to 2015 National Survey on Drug Use and Health (NSDUH) data.
According to NESARC data from that same year, 3% of American women suffer from a drug use disorder, while 10.4% suffer from an alcohol use disorder.
While men historically have been more likely to develop a substance use disorder, women also suffer in great numbers.
In recent years, the once large gap between the rates of overdose deaths for men, as compared to women, has been steadily closing.  It is expected that the rates of overdose among women will continue to increase in the next couple of years.
48,000 women died from prescription pain reliever overdose from 1999 to 2010. However, in just a 5-year span from 2010 to 2015, over 50,000 women died from a drug overdose (excluding alcohol related deaths and causes).
Research has shown that women are more likely to have chronic pain, be prescribed prescription pain relievers by their doctors, be prescribed higher doses of pain relievers by their doctors, and use them for longer periods of time than men.
Like other demographic population subgroups, women in recovery may face unique barriers and distinctive issues from their male counterparts.
This is a result of both sex differences (e.g. biological differences between male and female bodies) and gender differences (e.g. societal or culturally constructed roles of masculinity and femininity).
BIOLOGICALLY,
substance use disorder in women progresses at a faster rate than men, and are more susceptible to craving and relapse. Physiological differences accelerate the progression of addiction, as women metabolize alcohol and drugs differently. Fewer stomach enzymes and more fatty tissue slow down the processing of alcohol and other drugs, causing the body to be exposed to higher concentrations of the substance longer.
CULTURALLY,
women have often experienced greater levels of stigmatization around substance use as a result of their traditional societal roles as gatekeepers, mothers, caregivers, and often the central organizing factor in their family units. With the integration of women into the mainstream workforce in most middle and high-income countries like the U.S.,  women have also begun consuming alcohol at intensities and frequencies that are quickly catching up to that of their male counterparts.
Women suffering from substance use disorder will have unique experiences and challenges, displaying different issues and needs that may be essential to address in order for them to achieve and maintain long-term recovery.
GENDER-SPECIFIC SENSITIVITIES:
STIGMA

The shame, blame, and guilt attached to addiction can be stronger for women, especially mothers. Women report higher levels of stigma than men, and stigma is a known barrier to treatment seeking.

Historically, substance use disorder in women was considered a selfish, moral failure, that resulted in intentional harm to the family, child, and in terms of placing a burden on society. More current categorizations of substance use disorder however, acknowledge addiction in women as a treatable medical condition that impairs decision-making and overall cognitive function.

TRAUMA

Compared to men, a higher percentage of women with substance use disorder have been the victims of physical, sexual, or verbal abuse. It is estimated that between 55% and 99% of women in addiction treatment have had traumatic experiences.

Learn more about: Trauma & Addiction

CO-OCCURRING DISORDERS

Women are more prone to depression, anxiety, and eating disorders than men. Almost 2x as many women experience depression as men. Postpartum depression in women who have recently given birth, is another co-occurring disorder worth noting.

Eating disorders are also common among women with substance use disorder.

Learn more about: Co-Occurring Disorders

GENDER INEQUALITIES

Women are more likely to experience economic barriers to treatment. Pay gaps, lower wages, less income, or the higher likelihood of women living in poverty prior to substance use disorder onset, can limit the financial resources available to seek services and treatment.

Providing comprehensive services and continuing care post-treatment (e.g. housing, transportation, education, and income support), is known to reduce substance use in both genders, but a higher number of women are in need of those services.

MOTHERHOOD

70% of women entering addiction treatment have children. Women entering treatment are more likely to have primary responsibility for their children, where as the majority of fathers entering addiction treatment have another primary caretaker (e.g. mother) available.

More generally, women are more likely than men to experience difficulties in attending regular treatment sessions because of family responsibilities, and cite being responsible for the child care as one of the biggest barriers to entering treatment.

Women with children may also be hesitant to seek treatment for fear of legal action and social service involvement.
Women with substance use disorder are more likely than men to face multiple barriers in accessing treatment, and are less likely than men to seek treatment. Women also are more likely to seek treatment in mental health or primary care settings rather than in specialized addiction treatment programs.
SUPPORTIVE MEASURES FOR WOMEN IN TREATMENT
SEXUAL HEALTHCARE

Sexual health services should be offered to women to address unique health risks, as part of normal comprehensive physical exams provided to patients. These services may include attention towards family planning, protection and sexually transmitted diseases, and fluctuating hormonal levels.

GENDER SPECIFIC

Due to the high number of women with a history of sexual abuse or body image issues, gender specific options such as housing, peer support groups, or same-sex provider and care teams may help facilitate a safe environment for the patient to focus on treatment and recovery.

Data from the 2005 National Survey of Substance Abuse Treatment Services revealed that 87% of sampled programs accepted women, but only 41% of these programs provided  gender-specific programming or women-only groups.

SUPPORTIVE THERAPIES

Research has found that women enter addiction treatment with lower self-esteem than their male counterparts (Beckman 1994). As a result, use of supportive therapies (e.g. empathy, connection, warmth) has been found to be more effective (SAMHSA, 2009).

CHILDCARE

Women often have lack of access to child care services, discouraging attendance or even preventing treatment entry. By providing childcare supports, programs can help women enter and stay in treatment, allowing women to help themselves, and therefore help their children.

In 2003, only 8% of addiction treatment facilities provided child care.

LEGAL SUPPORT

Some programs may seek to offer legal support to assist mothers who have had their children removed by social services.

TRAININGS & WORKSHOPS

To address women-focused topics such as classes on parenting, job training, body image, housing, and financial independence.
CONTINUUM OF INTEGRATIVE FAMILY-BASED SERVICES
RESOURCES FOR WOMEN
CITATIONS
Research Summaries

Additional Citations

Alexander, K. (2017). A Call for Compassionate Care. Journal of addictions nursing, 28(4), 220-223.
Ashley, O. S., Marsden, M. E., & Brady, T. M. (2003). Effectiveness of substance abuse treatment programming for women: A review. The American journal of drug and alcohol abuse, 29(1), 19-53.
Bateman, B. T., Hernandez-Diaz, S., Rathmell, J. P., Seeger, J. D., Doherty, M., Fischer, M. A., & Huybrechts, K. F. (2014). Patterns of opioid utilization in pregnancy in a large cohort of commercial insurance beneficiaries in the United States. Anesthesiology: The Journal of the American Society of Anesthesiologists, 120(5), 1216-1224.
Brady, T. M., & Ashley, O. S. (2005). Women in substance abuse treatment: Results from the Alcohol and Drug Services Study (ADSS). Department of Health and Human Services, Substance Abuse and Mental Health Services Administration, Office of Applied Studies.
Canidate, S.S., Carnaby, G.D., Cook, C.L., & Cook, R.L. (2017). A systematic review of naltrexone for attenuating alcohol consumption in women with alcohol use disorders. Alcoholism: Clinical and Experimental Research, Mar; 41(3), 466-472. doi: 10.1111/acer.13313.
Center for Substance Abuse Treatment. Substance Abuse Treatment: Addressing the Specific Needs of Women. Rockville (MD): Substance Abuse and Mental Health Services Administration (US); 2009. (Treatment Improvement Protocol (TIP) Series, No. 51.) Chapter 7: Substance Abuse Treatment for Women.
Conway, K. P., Compton, W., Stinson, F. S., & Grant, B. F. (2006). Lifetime comorbidity of DSM-IV mood and anxiety disorders and specific drug use disorders: results from the National Epidemiologic Survey on Alcohol and Related Conditions. The Journal of clinical psychiatry.
Desai, R. J., Hernandez-Diaz, S., Bateman, B. T., & Huybrechts, K. F. (2014). Increase in prescription opioid use during pregnancy among Medicaid-enrolled women. Obstetrics and gynecology, 123(5), 997.
Greenfield, S. F., Back, S. E., Lawson, K., & Brady, K. T. (2010). Substance Abuse in Women. The Psychiatric Clinics of North America, 33(2), 339–355. http://doi.org/10.1016/j.psc.2010.01.004
Green, C. A. (2006). Gender and use of substance abuse treatment services. Alcohol Research and Health: NIAAA Publication, 29(1), 55.
Greenfield, S. F., Cummings, A. M., Kuper, L. E., Wigderson, S. B., & Koro-Ljungberg, M. (2013). A qualitative analysis of women's experiences in single-gender versus mixed-gender substance abuse group therapy. Substance use & misuse, 48(9), 750-760.
Hill, P. E. (2013). Perinatal addiction: Providing compassionate and competent care. Clinical obstetrics and gynecology, 56(1), 178-185.
Hudson, J. I., Hiripi, E., Pope, H. G., & Kessler, R. C. (2007). The prevalence and correlates of eating disorders in the National Comorbidity Survey Replication. Biological psychiatry, 61(3), 348-358.
Jones, H.E., Deppen, K., Hudak, M. L., Leffert, L., McClelland, C., Sahin, L., Starer, J., Terplan, M., Thorp, J., Walsh, J., Creanga, A. A. (2014). Clinical care for opioid-using pregnant and postpartum women: The role of obstetric providers. American Journal of Obstetrics & Gynecology, 210(4), 302-310.
Kelly, J. F., Greene, M. C., & Bergman, B. G. (2018). Beyond Abstinence: Changes in Indices of Quality of Life with Time in Recovery in a Nationally Representative Sample of US Adults. Alcoholism: Clinical and Experimental Research.
King, P. A. L., Duan, L., & Amaro, H. (2015). Clinical Needs of In-treatment Pregnant Women with Co-occurring Disorders: Implications for Primary Care. Maternal and child health journal, 19(1), 180-187.
Marsh, J. C., Cao, D., & D'Aunno, T. (2004). Gender differences in the impact of comprehensive services in substance abuse treatment. Journal of Substance Abuse Treatment, 27(4), 289-300.
Meyer, M. C., Johnston, A. M., Crocker, A. M., & Heil, S. H. (2015). Methadone and Buprenorphine for Opioid Dependence During Pregnancy: A Retrospective Cohort Study. Journal of addiction medicine.
Milligan, K., Niccols, A., Sword, W., Thabane, L., Henderson, J., Smith, A., & Liu, J. (2010). Maternal substance use and integrated treatment programs for women with substance use issues and their children: A Meta-analysis. Substance Abuse Treatment, Prevention, and Policy, 5, 21-35.
Niccols, A., Milligan, K., Sword, W., Thabane, L., Henderson, J., & Smith, A. (2012). Integrated programs for mothers with substance abuse issues: A systematic review of studies reporting on parenting outcomes. Harm reduction journal, 9(1), 14.
Niccols, A., Milligan, K., Sword, W., Thabane, L., Henderson, J., Smith, A., Liu, J., & Jack, S. (2010). Maternal mental health and integrated programs for mothers with substance abuse issues. Psychology of Addictive Behaviors, 24(3), 466-474.
O'connor, A. B., Collett, A., Alto, W. A., & O'brien, L. M. (2013). Breastfeeding rates and the relationship between breastfeeding and neonatal abstinence syndrome in women maintained on buprenorphine during pregnancy. Journal of midwifery & women's health, 58(4), 383-388.
Persons, A. T. E. (2009). Trauma, post traumatic stress disorder, and addiction among women. Women and addiction: A comprehensive handbook, 242.
Raeside, L. (2003). Attitudes of staff towards mothers affected by substance abuse. British journal of nursing, 12(5), 302-310.
Robinowitz, N., Muqueeth, S., Scheibler, J., Salisbury-Afshar, E., Terplan, M. (2016). Family planning in substance use disorder treatment centers: Opportunities and challenges.Substance Use & Misuse, 51(11), 1477-1483. http://dx.doi.org/10.1080/10826084.2016.1188944
Secco, L., Letourneau, N., Campbell, M. A., Craig, S., & Colpitts, J. (2014). Stresses, strengths, and experiences of mothers engaged in methadone maintenance treatment. Journal of addictions nursing, 25(3), 139-147.
Sinha, R. (2001). How does stress increase risk of drug abuse and relapse?. Psychopharmacology, 158(4), 343-359.
Substance Abuse Treatment for Persons With Co-Occurring Disorders. Rockville (MD): Substance Abuse and Mental Health Services Administration (US); 2013. (Treatment Improvement Protocol (TIP) Series, No. 42)
Traube, D. E., He, A. S., Zhu, L., Scalise, C., & Richardson, T. (2015). Predictors of Substance Abuse Assessment and Treatment Completion for Parents Involved with Child Welfare: One State's Experience in Matching across Systems. Child Welfare, 94(5), 45-66.
Tyrlik, M., Konecny, S., & Kukla, L. (2013). Predictors of Pregnancy-Related Emotions. Journal of Clinical Medicine Research, 5(2), 112–120. http://doi.org/10.4021/jocmr1246e
Van Boekel, L. C., Brouwers, E. P., Van Weeghel, J., & Garretsen, H. F. (2013). Stigma among health professionals towards patients with substance use disorders and its consequences for healthcare delivery: systematic review. Drug & Alcohol Dependence, 131(1), 23-35.
Welle‐Strand, G. K., Skurtveit, S., Jansson, L. M., Bakstad, B., Bjarkø, L., & Ravndal, E. (2013). Breastfeeding reduces the need for withdrawal treatment in opioid‐exposed infants. Acta Paediatrica, 102(11), 1060-1066.
Wilsnack SC. Barriers to treatment for alcoholic women. 

Addiction and Recovery. 

1991;

11

(4):10–12.