Comparison Between DSM-IV and DSM-5
How diagnoses of substance use disorder are made – including alcohol use disorder as well as other drug use disorders (e.g., marijuana, opioids,  cocaine).
A BRIEF HISTORY OF THE DSM-5
Starting in 2000, the American Psychiatric Association (APA) began forming work groups to proffer a research agenda for a fifth revision of the Diagnostic and Statistical Manual of Mental Disorders (DSM). Using research articles, white papers, and monographs, these work groups summarized the state of science relevant to the different conditions and identified gaps in diagnosis, treatment, and research. In 2007, the DSM–5 Task Force began creating the DSM-5 manual that was published in 2013.
NOTABLE CHANGES BETWEEN THE DSM IV AND DSM-5 INCLUDE:
In the DSM-IV, substance use disorder was broken into two separate diagnoses of  substance abuse and substance dependence. In the DSM-5, they combined theses two diagnoses into one, to create a single diagnostic category of substance use disorder.
The substance use disorder criterion of legal problems from the DSM-IV was dropped in favor of cravings or a strong desire or urge to use a substance in the DSM-5.
In addition, three categories of disorder severity were formed, using the number of patient symptoms. Out of 11 potential symptoms, 2-3 symptoms are diagnosed as a mild substance use disorder, 4-5 symptoms as moderate, and 6 or more symptoms as a severe substance use disorder. In the DSM-IV, patients only needed one symptom present to be diagnosed with substance abuse, while the DSM-5 requires two or more symptoms in order to be diagnosed with substance use disorder.
The DSM-5 eliminated the physiological subtype and the diagnosis of polysubstance dependence.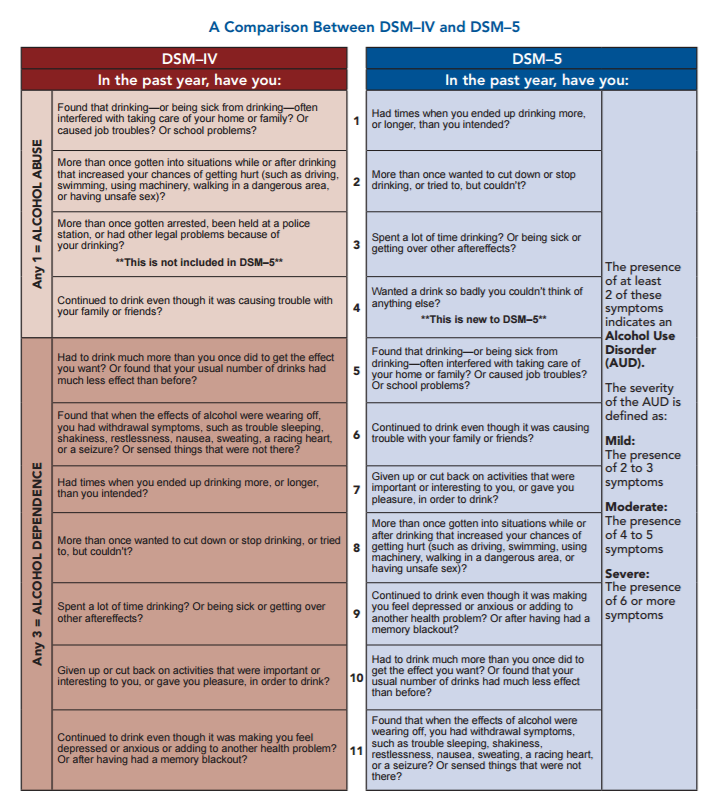 See Infographic: Diagnosing Substance Use Disorder
CITATIONS
https://pubs.niaaa.nih.gov/publications/dsmfactsheet/dsmfact.pdf