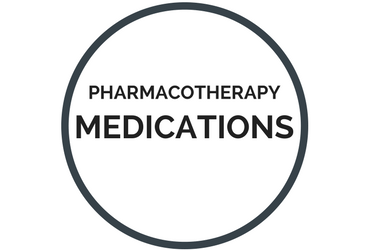 Pharmacotherapy – Medications
Pharmacotherapy (pharmacology) is the treatment of a disorder or disease with medication.
In the treatment of addiction, medications are used to reduce the intensity of withdrawal symptoms, reduce alcohol and other drug cravings, and reduce the likelihood of use or relapse for specific drugs by blocking their effect. The primary goal of medication-assisted treatment is for the patient to achieve fully-sustained remission.
Pharmacotherapy is often used together with other therapies such as Cognitive Behavioral Therapy (CBT), or 12-Step Facilitation. Medications combined with these other therapies are shown to:
Improve rates of patient survival
Increase retention in treatment programs
Decrease illicit opiate use and substance-related criminal involvement
Increase patients' ability to gain and maintain employment
Improve outcomes in pregnancies affected by substance use
MEDICATIONS BY PRIMARY SUBSTANCE
There exists a range of medications that have varied effects and outcomes. More research is needed into the long-term outcomes and whether these medications react differently within different subgroups.
MEDICATIONS FOR ALCOHOL USE DISORDER
MEDICATIONS FOR OPIOID USE DISORDER
MEDICATIONS FOR NICOTINE OR SMOKING CESSATION
UNDERSTANDING THE MEDICATIONS
NEUROTRANSMITTERS
A common term used in the context of substance use disorder medications.
THERE ARE 3 PRIMARY CLASSES OF MEDICATIONS TO TREAT SUBSTANCE USE DISORDER
Agonists

Antagonists

Mixed Agonist-Antagonists
 AGONISTS
SCIENTIFIC EXPLANATION (including partial agonists)

Agonists bind to and activate neurotransmitter receptors in the brain. In pharmacotherapy for addiction, agonists are employed to target receptors activated by particular drugs. In this way, the agonist medication can stimulate neurotransmitter receptors and offset withdrawal and craving effects caused by receptor under-stimulation that is typically experienced when someone stops using a drug. Though agonists mimic the mechanisms of a drug, they typically only produce mild neurological stimulatory effects, and are therefore much less habit-forming than drugs of misuse. Partial agonists work like agonists, except they have milder affinity for the neurotransmitter receptors they are targeting, thus producing subtler neurological effects.
ANTAGONIST
SCIENTIFIC EXPLANATION

Antagonists bind to and block neurotransmitter receptors in the brain. In pharmacotherapy for addictions, antagonists are employed that specifically target receptors activated by particular drugs. In this way, the antagonist medication can reduce the likelihood of use of a targeted drug (because the individual won't be able to experience the drug effects and is less likely to try using the drug), and prevent overdose (even if someone takes the drug it won't have an effect). Generally speaking, antagonist medications have no misuse potential because they don't produce any drug-like effects.
MIXED AGONIST-ANTAGONIST
SCIENTIFIC EXPLANATION

As the name suggests, mixed agonist–antagonists have a dual action; they both stimulate neurotransmitter receptors in the brain, and at the same time they block the neurotransmitter receptors from being activated by a specific drug or classes of drugs. The drug actions of both stimulating and blocking are non-permanent effects that only occur when the drug is taken and active in the body.