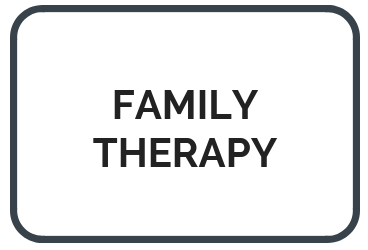 Family Therapy
Family therapy is a branch of psychotherapy that focuses on family‐level assessment to address the interdependent nature of familiar relations and transform these complex relational patterns to promote long-term recovery.
WHAT HAPPENS IN FAMILY THERAPY?
Family therapy involves the individual with a substance use disorder and at least one other person who is considered family. Therapy engages participants in applying behavioral strategies taught during sessions, and teaches participants new skills and understanding of not only each other, but of helpful and harmful behaviors that work to either dissuade or support recovery.
Facilitated discourse to increase awareness and education is the cornerstone of family therapy, to allow for asking questions and to inspire dialogue among family members.
Common goals of Family Therapy include:
Increasing knowledge of the nature of addiction and how it affects behavior
Increasing knowledge of mental health issues (e.g. depression, PTSD)
Increasing awareness of family dynamics and interpersonal conflicts (e.g. family roles)
Improving communication among family members (e.g. patenting skills)
Regaining trust in one another
Sharing feelings
Increasing abilities to identify and set boundaries
Increasing abilities to identify and express needs
Improving self-care
EXAMPLE EXERCISE
WHAT IS THE THEORY BEHIND FAMILY THERAPY?
Family therapy is a collection of therapeutic approaches that rest on a systems prospective, the belief that changes in one part of a system can and will catalyze change in other parts of the system, by either creating problems or contributing to solutions. Family members can be integral to the recovery process in their support for the patient, but also in their enforcement of consequences for addictive behavior. At the same time, loved ones will also have their own aspirations and issues that need to be addressed.
Historically, substance use disorders have been viewed as an individual problem (a moral or character flaw of the individual) and thus have been treated individually and in isolation. However, research from the last three decades has worked to identify the important role partners and families play in the origin and maintenance of addictive behavior. Addiction is now conceptualized as existing within part of larger family system, thus treating the couple or family as a whole.
WHAT ARE THE ORIGINS OF FAMILY THERAPY?
Family interventions have existed within human culture throughout time. The formal development of family therapy began with the child guidance and marriage counseling movements of the early 1900s, and further materialized with the creation of the American Association of Marriage Counselors (now known as AAMFT) in 1942. From early influences of psychoanalysis and social psychiatry, a multitude of different and distinct schools of family therapy developed. By the 1970s, the strict distinctions between different schools of thought began to soften, moving away from theoretical purism. Today, modern family therapy is often an eclectic mix of different strategies, techniques, and theories from across the different Family Therapy approaches.
EVIDENCE FOR FAMILY THERAPY
Family Therapy has yielded positive results in both adults and adolescents. A meta-analysis found family therapy to be the most effective intervention for decreasing substance use in adolescents. As a category, research has found family therapy to be more effective than comparison conditions across studies (Smith, Wilson, & Lipsey, 2012).
ADDITIONAL CITATIONS

Center for Substance Abuse Treatment.

Substance Abuse Treatment and Family Therapy: Chapter 1. National Institute on Drug Abuse (NIDA).

Family Therapy for Substance Abuse. http://www.recovery.org/topics/family-therapy-substance-abuse/ ; 2016
Family Therapy Can Help Guide. Rockville (MD): Substance Abuse and Mental Health Services Administration (US)
Azrin, N.H.; Donohue, B.; Besalel, V.A.; Kogan, E.S.; and Acierno, R. Youth drug abuse treatment: a controlled outcome study. Journal of Child and Adolescent Substance Abuse3:1–16, 1994.
Carroll, K.M.; and Onken, L.S. Behavioral therapies for drug abuse. American Journal of Psychiatry168(8):1452–1460, 2005.
Donohue, B.; Azrin, N.; Allen, D.N.; Romero, V.; Hill, H.H.; Tracy, K.; Lapota, H.; Gorney, S.; Abdel-al, R.; Caldas, D.; Herdzik, K.; Bradshaw, K.; Valdez, R.; and Van Hasselt, V.B. Family Behavior Therapy for substance abuse: A review of its intervention components and applicability. Behavior Modification33:495–519, 2009.

LaPota, H.B.; Donohue, B.; Warren, C. S.; and Allen, D.N. Integration of a Healthy Living curriculum within Family Behavior Therapy: A clinical case example in a woman with a history of domestic violence, child neglect, drug abuse, and obesity. Journal of Family Violence26:227–234, 2011.