Prevention
Policies, programs, and practices that aim to prevent or avoid the harms associated with the use of alcohol or other drugs.
Prevention activities and services are offered in a large variety of settings, from inside school classrooms, to pediatrician offices, to within recreational centers and larger community settings. The format for prevention activities and services can range from one-on-one to large groups. Addiction prevention programs encourage individuals to refrain from substance use, and work to help individuals avoid harm and injury from alcohol and other drugs, hopefully preventing the development of substance use disorder and substance-related injuries and harms.
The Institute of Medicine and National Research Council report the cost-benefit ratio for early intervention and prevention programs for addictions and mental illness programs to be from about 1:2 to 1:10.
TYPES OF EVIDENCE-BASED PREVENTION PROGRAMS
Universal Programs: Address risk and protective factors common to all in a given setting, such as school or community
Selective Programs: Target high-risk groups
Indicated Programs: Designed for those who have already begun using drugs
INTERSECTION OF PREVENTION AND HARM REDUCTION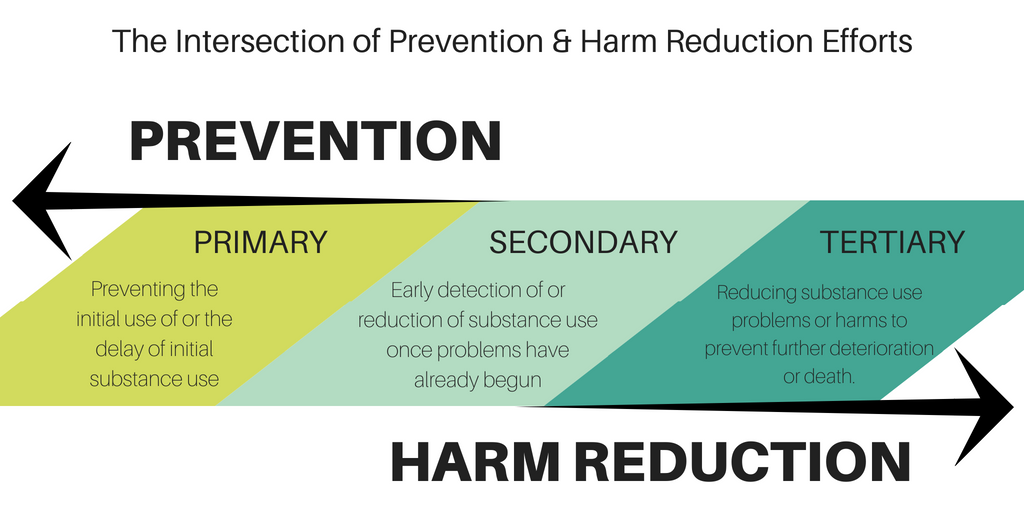 While prevention and harm reduction have common goals of creating a healthy community of thriving individuals and prevention of injury and death, most harm reduction strategies are outside the purview of addiction prevention.
FACTORS THAT AFFECT SUBSTANCE USE DISORDER DEVELOPMENT
RISK FACTORS
GENETIC VULNERABILITY

Genes account for 40-60% of the risk for addiction development.

PHYSIOLOGICAL VULNERABILITY

Variations in biological metabolic processes (e.g., enzymes in women's stomachs are slower to break down alcohol).

GENDER

Males are more likely than females to develop a substance use disorder, but women generally develop substance use disorder faster and incur more harm at the same levels of use.

PERSONALITY TRAITS

Personality traits such as high impulsivity, aggression, or sensation-seeking put an individual at greater risk.

CO-OCCURING DISORDERS

The prevalence of other mental health disorders, such as major depressive disorder, anxiety disorder, schizophrenia, attention-deficit hyperactivity disorder (ADHD), or post-traumatic stress disorder (PTSD).

FAMILY FACTORS

Having a parent or sibling that has a substance use disorder
Lack of family involvement, parental supervision, or support
Poor quality of the child-parent relationship
Family disruptions such as divorce, or acute or chronic stress
Social isolation
Abuse (e.g., sexual, physical, emotional)

PEER FACTORS

Substance use among peers and time spent with substance-using peers
Poor social skills

ENVIRONMENTAL FACTORS

Availability and accessibility of a substance (e.g., number of liquor stores in the neighborhood)
Community drug use patterns (e.g., use by neighbors)
Low socioeconomic status or community poverty
Social and legal policies such as taxes, purchase or use restrictions, enforcement, legal status, penalties, or school anti-drug policies
Media influence such as the frequency of exposure and nature of the representation of alcohol and other drugs

AGE AT FIRST USE

Beginning substance use at an early age puts one at greater risk for substance use disorder development
PROTECTIVE FACTORS
FAMILY FACTORS

Positive mutual attachment between parent and child
A parent's drug use can be offset by the non-use of the other parent
Marriage
Child-rearing responsibilities

PEER FACTORS

Positive group norms
Positive relationships

OTHER

Neighborhood pride
Religiosity
Employment
Academic competence
DEMAND VS. SUPPLY
DEMAND-SIDE PREVENTION
Prevention activities can be broken down into two categories: Supply-side prevention methods and demand-side prevention methods. Demand-side prevention seeks to limit consumer demand for alcohol and other drugs, addressing factors such as desirability, cultural stigma attached to individual substance or substance use, legal status, and cost.
Examples of demand-side prevention:
School prevention programs
Laws that limit the advertising of alcohol and other drugs to minors
Patient education where medical providers counsel patients on the addictive qualities of opioid prescription medications, the dangers of taking more than prescribed, discussing realistic expectations for pain management, and providing greater understating of substance use disorder and it's risk factors
Parents talking with their children about the dangers and harms of using alcohol or other drugs
SUPPLY-SIDE PREVENTION
Prevention activities can be broken down into two categories: Supply-side prevention methods and demand-side prevention methods. Supply-side prevention seeks to decrease alcohol and drug use by limiting the supply of available alcohol and other drugs, regulating factors such as availability, accessibility, legal status, and price. Historically, criminal justice involvement and policies in the "War on Drugs" primarily focuses on targeting supply.
Examples of supply-side prevention:
Imposing a 7-day supply limit on all opioid prescription medication after acute injuries to reduce the likelihood of transition to chronic use
Take-back programs where individuals can discard unused prescription medications at pharmacies and police stations
Prescription drug monitoring programs are electronic databases that track controlled substance prescriptions in order to see quantity and type of prescriptions given by any provider, but also track across individual patients so states can better understand the behavior of the epidemic and evaluate interventions
Harsher sentencing in the criminal justice system for larger quantities, transportation, or sale of any given illicit substance
WHAT IS AN EFFECTIVE PREVENTION PROGRAM?
The most effective prevention programs work to boost protective factors and eliminate or reduce risk factors for alcohol and other drug use.
Prevention programs vary in focus depending on target audience:
Children: Programs that focus on self-control, emotional awareness, communication, social problem solving, and academic support
Teens and Young Adults: Programs that provide several hours a week of extracurricular activities, encourage academic excellence, provide healthy role models, and focus on communication, peer relationships, self-efficacy and assertiveness, drug resistance skills, and reinforcement of anti-drug attitudes
Adults: Programs that work to identify substance use early, such as in a primary care setting and provide medication education and counseling during periods of injury and surgery about pain management