Why Addiction is a Disease & Why It's Important Webcast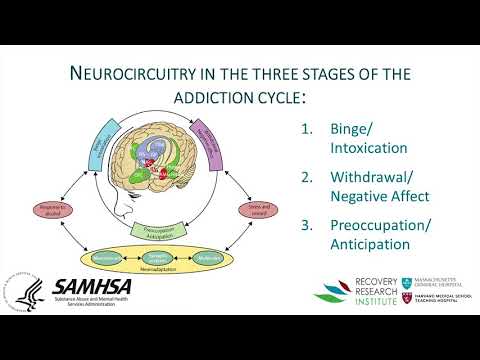 The second episode in a free 4-part webcast series entitled, The Power of Perceptions and Understanding, brought to you by the Substance Abuse Mental Health Administration and the Recovery Research Institute.
Why Addiction is a Disease and Why It's Important
This webcast delineates the definition of disease and the importance of defining substance use disorder as such, from a variety of perspectives. The panel of experts also discuss the importance of describing addiction as a treatable condition, from which most people successfully recover. For more information visit: https://www.samhsa.gov/power-perceptions-understanding/webcasts
EXPERT PANEL INCLUDES: 
Dr. BERTHA MADRAS a Professor of Psychobiology at Harvard Medical School, serving at McLean Hospital with a cross-appointment at Massachusetts General Hospital. Dr. Madras is the former Deputy Director for Demand Reduction in the White House Office of National Drug Control Policy. Dr. Madras was appointed as one of six members of the President's Commission on Combating Drug Addiction and the Opioid Crisis.
PATTY MCCARTHY METCALF is the Executive Director of Faces & Voices of Recovery. She served as Deputy Director of the Center for Social Innovation at SAMHSA's Bringing Recovery Supports to Scale Technical Assistance Center Strategy. Ms. McCarthy-Metcalf served for a decade as the Director of Friends of Recovery-Vermont (FOR-VT), and is a woman in long-term recovery.
Dr. INDRA CIDAMBI is the Vice President of the New Jersey Society of Addiction Medicine. Dr. Cidambi is the founder and Medical Director of the Center for Network Therapy (CNT), New Jersey's first state licensed Outpatient Detoxification program for alcohol, anesthetics, benzodiazepines and opiates.
JOHN KELLY, PhD, ABPP is the Elizabeth R. Spallin Associate Professor of Psychiatry in Addiction Medicine at Harvard Medical School – the first endowed professor in addiction medicine at Harvard. He is also the founder and Director of the Recovery Research Institute at the Massachusetts General Hospital (MGH), the Program Director of the Addiction Recovery Management Service (ARMS) and the Associate Director of the Center for Addiction Medicine at Massachusetts General Hospital.
Moderated By CORRIE VILSAINT, PhD, is a Post-Doctoral Research Fellow at Harvard Medical School and Massachusetts General Hospital. At the Recovery Research Institute she specializes in study design and measurement. Corrie completed her Ph.D. in Community Psychology at the University of Virginia. Her research has focused on racial disparities as outcomes of substance use, the recovery process, and advanced statistical applications including Item Response Theory.
MORE FROM THIS SERIES
Overcoming Stigma, Ending Discrimination Webcast
Reducing discriminatory practices in clinical settings
A future without discrimination and discriminatory practices