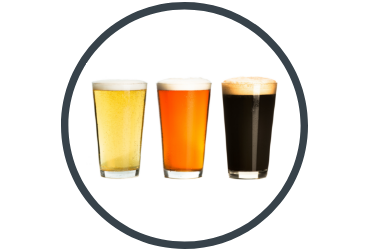 Guide to Drinking Levels
Excessive alcohol consumption is a component cause of more than 200 disease and injury conditions, including alcohol use disorder, liver cirrhosis, cancer, and physical injury.
The World Health Organization estimates that more than 3 million deaths, or 6% of all deaths worldwide, can be attributed to alcohol.
WHEN TALKING ALCOHOL CONSUMPTION, HOW IS A SINGLE DRINK DEFINED?
WHAT IS A SAFE AMOUNT OF ALCOHOL TO CONSUME?
No amount of alcohol consumption is safe or without risk. The U.S. government, however, defines and recommends levels of alcohol consumption that have been found to generally carry only low to moderate risk for the general population. It is never recommended that individuals who do not drink alcohol begin to drink alcohol based on these guidelines. Women should be aware that even moderate drinking may increase the risk of breast cancer.
PREVIOUSLY TWO DIFFERENT DEFINITIONS FOR LOW-RISK DRINKING
The National Institute on Alcohol Abuse and Alcoholism (NIAAA) previously had differing guidelines than the U.S. Department of Health and Human Services, but have since adopted the same definitions of "drinking in moderation" or "low-risk drinking." According to the U.S. Department of Health and Human Services Dietary Guidelines, the daily limit for women and men is 1 and 2, respectively. The dietary guidelines are generally concerned also with other aspects of harms caused by alcohol, including toxicity, which is known to cause cancer.
In general, it is recommended that people intersperse days they drink with days they don't drink, in order to give their bodies a respite from processing alcohol.
In the NIAAA guide to drinking levels, for women, heavy alcohol use is defined as consuming 3 or more drinks on any day and more than 7 drinks per week. For men, heavy drinking is defined as consuming 4 or more drinks on any day and more than 14 drinks per week.
Previous NIAAA research has found that, on average, only 2 in 100 people who drink below these limits within the guidelines for "drinking in moderation" will go on to develop an alcohol use disorder.
The U.S. Dietary Guidelines for American adults recommends that if alcohol is consumed, it should only be consumed in moderation — up to 1 drink per day for women and 2 drinks per day for men. This is not intended as an average over several days, but rather the amount consumed in any single day.
RECOMMENDATIONS FOR ABSTINENCE
There are certain cases in which it is recommended that American adults avoid alcohol completely. It is strictly advised that under no circumstances should individuals under the legal drinking age of 21 years old consume alcohol in any amount.
CITATIONS